Welcome to Schroeder Tennis Center's website!
Please take a moment to register with us.


Click HERE for info explaining the registration process.


We are a full service tennis center offering clinics and leagues for every age and level, private or group lessons, beginner programs, USTA and GMVTA competitive teams and Cardio Tennis. We will soon have 7 indoor climate controlled courts and 4 outdoor courts. Our pro staff provides unsurpassed quality programming and instruction.

For Japanese Information
Click Session Schedule & Club info!
Adult/Junior classes and leagues
WINTER 2014/15
Click HERE to see the winter schedule!
Winter Session will start on Monday, November 3, and run through Sunday, January 11, 2015.
Call at 669-5552 to register for the class/league now!!
Call Bud with any questions and for help finding the class for you.
---
EVENTS AT STC
--New Membership Drive currently underway for anyone interested in joining. If you have not been a member at STC in the last 3 years, we have the deal for you. Give us a call!!
--Grand Opening Events...
November 8th 2-9 pm
--2 pm on, book your court time
--3-4 pm Free Beginner Classes
--4-6 pm Junior Tournament
--5 pm New Building Dedication
--5-7 pm Mens & Womens Doubles Tourney
--8 Raffle Drawing
--7-9 pm Mixed Doubles Tourney
Free T-shirts to participants.
Tickets for drawing of the Novak Djokovic & Serena Williams signed racquets available during the festivities!
DON'T FORGET... IF YOU NEED THAT PERFECT BIRTHDAY PARTY IDEA, SCHROEDER IS YOUR PLACE!!! GIVE US A CALL TO SCHEDULE YOUR PARTY TODAY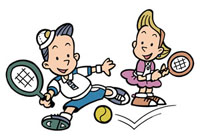 CONSTRUCTION IS COMPLETE!! TO SEE PROGRESS PICTURES

COURTS ARE OPEN!!!
---
~MESSAGE BOARD~
Youth Team Tennis at Parks

Hope everyone enjoyed the tennis at park this summer!! Also, great thank you for all volunteer coaches to make this happen!! If your child wants to keep playing tennis, we have some classes offering at Schroeder Tennis Center. Please call at 669-5552.

If you have any questions, please email at MVCTAtennis@gmail.com

New to our Beginner Program
QuickStart Tennis for Juniors

Adult Beginner Classes offered at some of the same times so parents can learn the game too!

Click on the QuickStart tab on the left to learn about this exciting new program.
---
Now we are on Facebook!
Click here to view Schroeder's page!